Wrecked
Author
:
Elle Casey
Released: 1st January 2012
Format: eBook
Purchase: Amazon
From Goodreads:
If you liked The Breakfast Club and The Swiss Family Robinson, you'll love WRECKED! An ill-fated Caribbean cruise and four teenagers: a nerd, a jock, a mouse, and a beauty queen…an island, a treehouse, some nefarious interlopers…life and death…fear and loathing…love and laughter. Follow Jonathan, Kevin, Candi and Sarah as they find their typical high school lives and their worlds totally WRECKED.
Review:
I won a ecopy of "Wrecked" on a giveaway, sponsored by the author Elle Casey.
When I've first received this book I wasn't so sure whether I would have liked it or not, because I'm usually not really attracted by contemporary books. Well, as the proverb says, never judge a book from its cover. "Wrecked" was really an amazing read! I think one of my favourite for the month of May so, I decided to share with you, my love for this book!! (:
First of all, the context in which the book takes place was hilarious: four teenagers, with completely different personalities, are forced by their parents to take part in a cruise together. Unfortunately (or fortunately), the weather did not play in their favor, and neither did the fortune! During the evacuation plan, the lifeboat, in which they found shelter, has been accidentally released in the ocean and Sara, Kevin,Jonathan and Candy will be wrecked on a desert island. But, this apparent calamity will prove to have been a real fortune as it will give the guys the possibility to put aside their prejudices and to get to know each other for real. But the little heaven they called "Peanut Island" risks to be threatened by a group of drug smugglers: Will they protect Peanut Island from this threaten? And most important of all, will they finally come back home? And if they will, the relationships they created on "Peanut Island" are meant to last even after their come back? You just have to read it!!
When I finished "Wrecked" I realised there wasn't anything I didn't enjoyed about the book, so this is one of the few times I won't talk about negative aspects of a book. The first thing I really liked was the fluency with which the book flowed; it wasn't hard to read or boring, it was totally a joy for my eyes! (;
For my standard I read it pretty fast and the only thing that prevented me from reading it even more quickly was that I was obliged to read it on my Iphone. But nothing stopped me from getting to the end of the story! The author made an awesome work in describing perfectly the places in where the book was set, but, especially, I loved the alive and real description of the island, it was so easy to picture where the guys had been wrecked! The color of the water, the sweet sound of a waterfall, the coconut milk, everything is still perfectly vivid in my mind. And what about the characters? They were all amazing! They all represented the classic teenagers of nowadays:
-Sara, she was the beauty queen of the situation. The classic girl who only cares about make-ups, clothes and making a good impression on other people; I mean who will think about taking a beauty case in the middle of an evacuation plan? But those who were more close to her, like her brother Kevin, they knew Sara wasn't really like that: the superficiality that characterizes her, in fact, was only a shield that she uses to deny the others to discover his sensitivity and intelligence. On the other hand, aren't intelligence and sensitivity nerd things?
-Kevin, OH KEVIN, the quaterback of a rugby team; handsome, hefty and funny, the typical guy every girl would pay to be with. He actually had never needed to praise to have something, he could asked for anything and everybody would have hurried to please him. That's why, when the little shy Candy doesn't seem to surrender to his charm he starts to understand that what he got at home wasn't really what he could have called happines. He had always looked for hot girls but maybe this is not what makes you really happy.
-Jonathan, TMI Jonathan, TMI. You are probably wondering what the hell am I saying: To Many Informations, that's what the others always said to him, to the nerd boy who used to make research on any subject. I found him so sweet, and maybe being always super prepared about everything was his own way to achieve a little of self-esteem, a way to hide his insecurity.
-Candy, she was Jonathan's sister and one of my favourite characters. She begins with being a normal girl, who had always lived in the shadow of beauty queens like Sara but, despite this she has a great personality and she has a strong relationship with her parents and her brother, without being ashamed of that. Spending time with Sara will prove to have been an absolutely positive experience for Candy: Sara will help her to pull out her beauty and personality, and day by day they become acquired sisters; even though she was physically transformed, she never let other people's prejudices influence her way of being.
In my opinion, the book contains also a really important moral: as I said on purpose at the beginning of the review, we should never judge a book from its cover because we could really be missing something special.
If Sara and Kevin wouldn't have been shipwrecked on that island, maybe they would have never known Jonathan and Candy and then real friendship and love.
What I found really positive was that the author described their adventures,adopting all four points of view, alternating them in a precise and neat way. I was so glad to feel and read about their emotions, their fears. When I reached the ending of the book I was SO sad; I was waiting for a certain thing to happen at the very end but the author decided to make the book end without revealing too much. I immediately realised I wanted more and when I read there wasn't going to be a sequel I was speechless. Now, dear readers, I can proudly tell you that Elle Casey told me that in December there will be a sequel!!
Rated:
Interview with the author: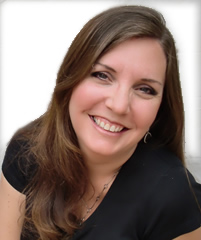 Elle Casey is an American author living in southern France with her husband and three children. She writes in a variety of genre including Young Adult Action/Adventure, Young Adult Fantasy, Adult Thriller, and Adult Contemporary Romance.
Visit her at www.ElleCasey.com.
Friend her on Facebook: www.Facebook.com/ElleCaseyAuthor
Join her fan page: www.Facebook.com/ElleCaseytheAuthor
Follow her on Twitter: www.Twitter.com/ElleCasey
*Can you tell us a little about yourself and your love for books?
I
've been reading since I was 4 and have read probably over a couple thousand books in my lifetime. I love books!! I can't tell you how many things I've not gotten done because I was too busy reading and how many nights I've stayed up until the sun began to rise, finishing up a good book.
I don't have much time for reading these days, what with all the writing I've been doing. But my favorite genres are fantasy/paranormal, dystopian/post-apocalyptic, thriller, horror – though not so much anymore, but when I was younger, Stephen King was my guy – romance, literary fiction … okay, so I like most of 'em.
*
How did you get into writing?
W
ell, I have been writing all my life for fun and work (I am a lawyer and professor). But last year when I learned about ebooks and publishing to the Kindle, I decided to write Wrecked - actually to finish writing it. I'd started doing bits and pieces of it years ago, but never finished. I finally completed it in a 3-month period of time and published it in January 2012. It's a story that's been in my head for maybe 20 years. I always wondered what I'd do if I was shipwrecked, so this story is my idea of how I would have managed if it had been me.
*Describe your book in three words:
T
een shipwreck adventure. :)
*Where did you get the idea for creating all the characters? If you could be one of them, Sara Kevin Jonathan or Candy, who would you be and why?
Hmmm, that's a good question. I don't recall exactly, other than I wanted to have people from opposite ends of the social spectrum so I could write a story about how people who seem very different on the outside are actually very similar on the inside. We all want the same things in life for the most part - acceptance, love, understanding, a feeling of accomplishment. I wanted to show that from different perspectives. I also wanted to represent a lot of the real-life cliques that exist in high school. No matter where you live and go to school, there are geeks, jocks, popular beauty queens, and of course, the shy girls. :)
If I could be any of the characters, I'd be ... Kevin. I've never really been in a guy's head before (I can imagine what it's like but never really know) and he seems very guy-ish to me. It might be fun to actually see what goes on in there. LOL
*What is you favorite scene or quote from your book? And what is your favorite quote from another book?
My favorite scene in the book is when Sarah has her tantrum about being stressed and yells at Jonathan, and then Jonathan's reaction right after. It makes me giggle to picture it.
My favorite quote from another book? Oh, boy. I can't really even think of one. You'll probably think I'm totally goofy, but I guess there is one that I can think of that really just GOT me when I read it. It was from Twilight when Edward makes Bella say what he is. "Say it." ... "Vampire." Gives me chills even after reading/hearing it twenty times. :)
*What would be your dream cast for an eventual movie adaption of your book?
O
oooh, that's the funnest, isn't it? Imagining the book turned into a movie? I'd soooo love that. The problem with me as a casting agent, though, is that I'd want to put all unknowns in all the roles. I go crazy when I see someone super famous playing a roll that really needs a fresh face. So I totally cannot answer this question. I want all new faces up there. Then it would almost make them seem more real to me. (I know ... I'm nuts!)
And in the end I have a wonderful news for all of you!
The first book in the War of the Fae series is free on Amazon, only for today!
So, what are you waiting for click here to purchase it.
Jayne Sparks, a potty-mouthed, rebellious seventeen-year-old and her best friend, shy and bookish Tony Green, have a pretty typical high school existence, until several seemingly unrelated incidents converge, causing a cascade of events that change their lives forever. Jayne and Tony, together with a group of runaway teens, are hijacked and sent into a forest, where nothing and no one are as they seem. Who will emerge triumphant? And what will they be when they do?
I'm sure that everyone who loves contemporary book or the ones who read
a little bit of everything, like me, will love this book! It's just the perfect summer read; who knows that maybe
during your summer holydays you could be wrecked in a desert island with your best enemies?
I'm looking forward to hear your thoughts!
Sara